Fred made some decent progress the last few weeks, including some work on the visual novel.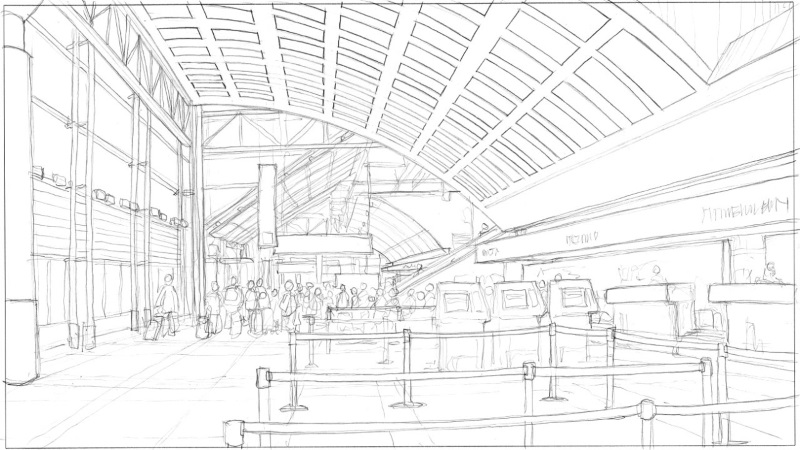 He continued work on replacing some of the placeholder backgrounds in the early part of the game with actual drawings. Above is the airport in LA where Piro makes the fateful decision that he and Largo should take a trip to Japan. Shaggy has also added some more music, and Shadow made some more ren'py tweaks to make it all work better.
Fred made a lot of progress with the omake for between chapters 11 and 12 of the comic. The drawings for the first installment are done, and he's spent a lot of time assembling characters onto backgrounds and working on the scripting and dialogue. This omake is going to be in the style of the MT visual novel, and available both as a renpy version and on the MT website as a regular browser version for everyone. Fred has just a bit more dialog work to do to finish the first installment. Then Shadow and Klange will finish the technical work to make it available through renpy and the website. It looks really good.
Fred also drew neko-Miho and neko-Piro. He's threatening to make this a branch in the visual novel, which I think would be hilarious. The originals of this drawing have already sold. But he should have a fine art print available soon, along with all the other new fine art prints he's made available recently in the megagear store.
We are still planning to put out a preview version of the MT visual novel for the 2nd anniversary of the kickstarter in july. It will be available to everyone who pledged beta tester level and up. The visual novel is still progressing, though much slower than we would all like. It's a long way from done, but we think you'll like what we have so far. Thank you for your support and for your patience.